This is an activity best on a sunny Autumn day outside in the garden as it can get a bit messy 😉
There are lots of instructions on the internet on how to carve a great pumpkin. We've pulled together a few tips, ideas, and favourites here that will help you carve a great pumpkin with the kids.
Carving a Pumpkin with Kids
Obviously, sharp knives are involved, and we recommend an adult does the cutting. However, there's plenty you can get the kids involved with.
The best pumpkins we have ever carved are from using a stencil. There are lots of these available on the web, and we have a few below.
The kids will love to choose the stencil for their pumpkin – though be warned – there are lots of very complicated designs that are difficult to carve. We've kept our suggested list of templates to ones that are a little less complicated.
Using a Pumpkin Stencil
Print out the pumpkin stencil, cut it down to size, and tape it to the pumpkin.
Then get a pin or cocktail stick, and trace around the stencil by poking the pin or stick through the stencil and the pumpkin, following the outline of the stencil. This is something your kids can do if you are happy with them using a pin or cocktail stick.
Once the stencil has been traced by the pin, cut open the top or back of the pumpkin and hollow it out.
Using a sharp knife, cut out the traced pumpkin stencil.
Below are some videos with tips on how to carve a pumpkin.
Pumpkin Instruction Videos
Pumpkin Stencils
Here are some pumpkin stencils we've found on the internet.
An Easy Pirate Pumpkin
This Jolly Roger shouldn't be too difficult to carve. Via pumpkincarvingtemplatessite.blogspot.co.uk
A Classic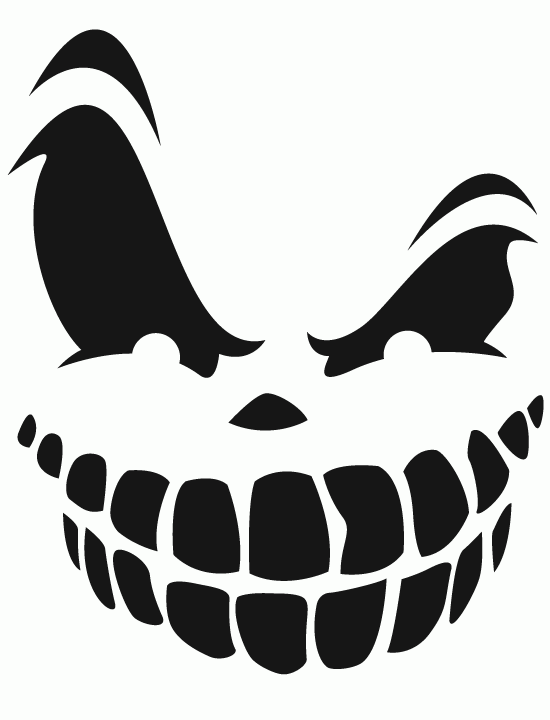 This one is a classic pumpkin face.
The teeth might a bit tricky to carve. However, you could follow the steps in the video and just cut the mouth open and add fangs using cocktail sticks. Via sheknows.com
Ghostbusters Pumpkin Template
This one could be a bit tricky in places, but it's a fun one nonetheless. Via blogspot.co.uk
More Pumpkin Templates
Here's a collection of even more templates. Click the link to visit the website and then click the 'Download' buttons to get these templates. Via vivint.com
---
How we got on
Inspired by the video above, our Tom designed his own cyclops pumpkin, now know as 'Phsyco-Pig'.
---
What do with your pumpkin after Halloween
The pumpkins don't last forever, and will soon start to rot down. Before they do, turn your pumpkin lantern into a bird feeder. Click here for details.
Be in the know!
Join thousands of other parents and receive our regular newsletter containing a round up of the latest articles, days out, campsites, and reviews for helping you get your family outside and active.