Here are some fun Halloween food that you can make with your kids…
---
This Halloween we intend to make use of our camping gear and will be having a Halloween party outside.
It's probably the best time of year to sit around a campfire and listen to spooky campfire stories.
We shall create a few Halloween decorations that we can use outdoors, such as our ghostly tea-light lanterns, and create some Halloween food.
---
Halloween Food – Are you too scared to eat it?
There are some great ideas out there for Halloween food, and we're really looking forward to giving them a try.
Here are some items we're thinking of making this year.
---
Mummy Pringles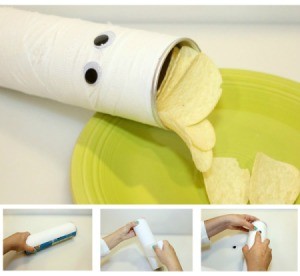 These Mummy Pringles from Thrifty Fun, I suppose fall more into Halloween Crafts rather than Halloween food, but food comes out of them, so we've included them here.
It's a really simple idea that kids can make without getting too messy.
---
Severed Fingers Hot Dogs
These severed fingers hotdogs from Cookpad are gross but really easy to make.
This one uses a slice of onion for the nail but I've also seen somewhere you simply carve out the nail with a knife, making them even easier. You can also use the knife to carve some lines where the knuckles should be to make them even more realistic.
---
Mummy Sausage Roles
Although they call these Mummy Hotdogs, I think they look more like Mummy Sausage Rolls, and you can find the recipe here.
---
Jelly Worms
Via timefortheholidays.net
This is a great idea and something we're going to try.
Such a simple idea:
Use an elastic band to tie some straws together in a cup. Straws with a bendy section are best as they give the worms that wrinkled look.
Make up some warm jelly mixture and pour into the end of the straws. Strawberry jelly might be a bit red, but you might be able to mix with some darker jelly to create a browner colour.
Let the jelly mixture start to cool in the straws. When cool enough, pull the worms out from the excess at the bottom of the cup. Running some warm water over the straws may help free the worms.
You can find these jelly worms over on Time for the Holidays.
---
Little Ghosts
We like this one from Not Quite Nigella.
Something very simple to make yet quite effective.
This one's definitely on the list.
---
More ideas for Halloween Food
The above items are ones that we've narrowed down to try for our Halloween party.
Not seen anything you like yet? Have a look at our Pinterest Board for more inspiration.
---
UPDATE: What worked well and what didn't
Well, unfortunately, the jelly worms didn't work too well. We ended up with too much jelly running out the bottom of the straws and getting them out proved to be a bit difficult.
The worms we did get out looked effective, but they were all in bits 🙁
The mummy crisps were something really easy the kids got on and made.  The little ghosts were also easy for them to make. We have a food colouring/icing pen that made putting on eyes even easier.
Mummy sausage rolls were good too. We cheated and bought some pastry. The kids could just cut into strips and wrap around the sausages. Simple.
The severed finger hot dogs also worked….but too well. It was a little off-putting eating them!
Be in the know!
Join thousands of other parents and receive our regular newsletter containing a round up of the latest articles, days out, campsites, and reviews for helping you get your family outside and active.