Trying out Canicross
Posted by Gav Grayston.
First Published Dec 2016

; updated May 2023

.
We give Canicross a go and have a great time.
---
One of our daughters came across an interesting event put on by one of our local National Trust properties, Attingham Park.
The activity was called Canicross, and I must admit, I had never heard of it before....
Canicross: Cross-country running with your dog
The idea is quite simple: you go for a cross-country run with your dog, or in some cases, dogs.
I know our dog loves to run, and having just turned 12 months old, she was allowed to give this a go.
This event was put on with the help of a local Canicross cross organiser as a way of getting into the sport, and fortunately for us, all the equipment was provided.
So on a cold and frosty December morning, we kitted up and set off to give it a go.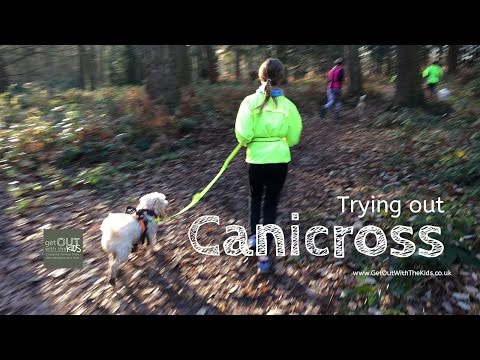 Canicross Harness
A normal collar and leash are not very safe to run with your dogs.
Instead, your dog needs to wear a special running harness. This puts less pressure on your dog's neck, and has the leash attachment towards the back of the harness....since your dog is likely to be running in front of you 😉
The leash is quite long and has a bungee so that shocks are absorbed by both you and your dog when they set off much faster than you. The one we tried also had a normal handhold, so you could walk your dog to heal when needed.
This was all connected to a belt around your waist.
More Speed!
Dogs can generally run a lot faster than people, and when you are strapped to an eager young dog, you'll be pulled along, making you go a lot quicker than normal.
This can be really helpful when going up a hill. Not so helpful on the way down!
Dogs love Canicross
Dogs love Canicross. It's basically a large human and canine pack running through the woods, and they love it.
A family affair
Canicross is geared up for families to do it
What was really good to see is that Canicross is geared up for families to do it.
There were many children running with their dogs. It might even encourage and help kids that are not used to running outdoors to give it a go.
As I looked into Canicross a little more, I found that organised races often had a children's route. Unfortunately, a lot of 'normal' organised running races exclude children until they are around 17 years old, so it's great to see an outside sport that is inclusive of kids and families.
---
Our Verdict of Canicross?
We absolutely loved it
Well, so far, we've only tried it this once. We absolutely loved it, and so did our dog, so we'll be looking out to give it another go soon.
Since we like getting outside and also going for runs, I think we might be getting ourselves a basic Canicross  set-up too 🙂
---
Useful Canicross Links
If you are interested in learning more about Canicross, here are some links that I found useful.