Go Ape: The Family Guide - What you need to know for Tree Top Fun
Posted by Gav Grayston.
First Published Jul 2013

; updated May 2023

.
Go Ape is a great family outdoor activity, with stuff in the trees and on the ground to do. Read this family guide to Go Ape, including child heights, adult supervision, what to wear, etc.
---
Go Ape's famous TreeTop Challenge is available all around the UK. Read this family's guide to Go Ape...
---
Go Ape has high rope courses and forest adventures up and down the country.
We went along to Go Ape in the Wyre Forest to bring you this family's guide to Go Ape.
Read this guide from end to end or click on something in the Contents.
The Go Ape TreeTop Challenge
Some high rope courses resemble telegraph poles with ropes, swings, and nets between them. Not the Go Ape TreeTop Challenge.
Their rope courses are among the trees and are in fantastic scenery, and they make the best use of the landscape. At some Go-Ape centres, you can even fly across reservoirs or waterfalls.
The Tree Top Challenge is the main Go Ape activity and can be found at each Go Ape location (see Locations later). There are also TreeTop Adventures, Forest Segways, and even giant netted areas at some places (more on that later).
Zip Wires
Each TreeTop Challenge is slightly different, but you can expect to find Zip Wires, Crossings, and Tarzan Swings.
Courses are usually divided into sections; you make your way around them in order. Many sections finish with a zip wire.
The Zip Wires at Go Ape are fantastic!
They are long, and you fly over and through the trees.
Sometimes the zip wires will be on one side of a valley, so you can fly high above the ground (see later section if you're not too keen on heights).
You can hardly see me in the photo - that's how long this zip wire was - and this was only one.
Tree Crossings
Each Tree Top Challenge has several 'crossings'. These are crossings you make between tree to tree.
They get quite inventive at Go Ape. Some crossings, you're walking a beam, others a tightrope and one was even through barrels floating up in the tree canopy (not my favourite - see our video to see what I mean!).
Don't worry - you're fully harnessed in at all times (see later section on Safety) - so even if you were to fall off a crossing, you would float and get yourself back on it (we never saw anyone fall, despite how wobbly some crossings were).
Tarzan Swings
Another item often found in the TreeTop Challenge is the Tarzan Swing.
You swing from a platform holding a rope (harness attached), and land in a net on the other side.
Tarzan noises are optional.
Go Ape Tree Top Adventure Video
Watch our video to see what you might find on a Tree Top Adventure.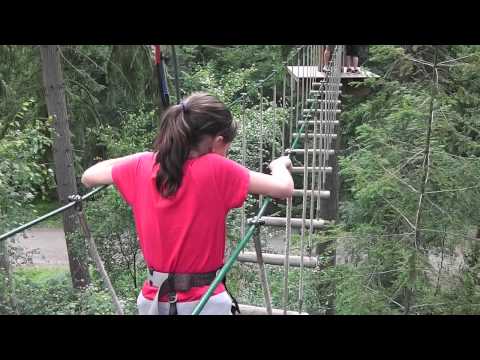 TreeTop Adventure
Height and age restrictions do apply to the TreeTop Challenge (see Who Can Go Ape?), but some Go Ape locations have a TreeTop Challenge course.
We have a detailed review of the Go Ape TreeTop Adventure. We highly recommend trying TreeTop Challenge, especially if you've not done anything like this before.
You can watch our video below to understand what a TreeTop Adventure course looks like. This was filmed at Go Ape in Cannock Chase.
Click here to see more details on Go Ape's TreeTop Adventure
We highly recommend giving Go Ape TreeTop Adventure a try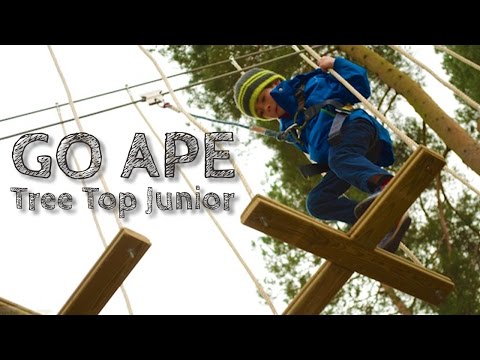 Forest Segways
Segways were invented in the USA as a 'personal transport device'; you may have seen these on TV.
They are electrically operated vehicles that you stand on...and they only have two wheels.
Go Ape have several Forest Segways where you spend about an hour zipping along the forest floor instead of the treetops.
Many Go Ape locations have Forest Segways (see Go Ape Locations below).
We've not tried the Forest Segways yet, but they're on the list to do 🙂
Who can Go Ape?
Go Ape *is *a family activity, but for obvious safety reasons, age and height restrictions apply, as well as the number of supervising adults....yep supervising adults. After being given training and showing that you understand how to navigate the course safely, you are responsible for navigating the course yourself. You will also be responsible for any children you take.
For TreeTop Challenge, children must be at least 10 years old and 1.4 metres tall. One adult can supervise a maximum of two children aged 10-15 (the number of children you can supervise increases for 16-year-olds and older).
The TreeTop Adventure course is designed for children aged 6 to 12. However, those under 6's can do the course if they are at least 1 metre tall and likely enjoy it. One adult can supervise two children, but only one child is recommended if it is their first time.
Alternatively, some locations have a TreeTop Adventure+, between the TreeTop Challenge and TreeTop Adventure, and a good opportunity for kids to try a more challenging course after the TreeTop Adventure.
The Forest Segways have an age restriction of at least ten years old and a weight restriction. Riders must be between 7 and 19.5 stone. This is needed to make the Segways balance.
One parent can supervise up to 3 under-16s on the Forest Segways.
(Please check the latest rules on the Go Ape website when booking).
Safety
For the TreeTop Challenge, you are given a full safety briefing and a chance to try out and demonstrate what you have learnt.
You are strapped into a climbing harness, which has two safety lines. You always have at least one safety line attached to the safety wire that runs around the course.
As the supervising adult, you must ensure your child understands how to clip on the safety lines and ensure they are clipped on correctly.
It's not as complicated as it sounds, and there's plenty of practice before starting the course.
Go Ape also have lots of easy-to-follow instructions at each obstacle, showing you exactly what to hold and what to be clipped onto.
There are also other rules, such as only one person on a crossing at a time and a maximum of 3 on a tree platform.
The first section of the course is a low-height set of obstacles where you show the instructors that you know what to do.
The harness is secured and adjusted by the instructors to make sure it's fitted correctly.
But I'm scared of heights!
Don't worry. You're not alone. So am I!
Mountain walking doesn't bother me. Flying is no problem. But up a ladder to paint the stairwell, vertigo kicks in for me. It's as if my eyes can't focus properly on the ground.
My kids, however, are like monkeys and love climbing walls and abseiling. So, it was time to 'suck it up'!
Go Ape is used to people who are not too keen on heights, and plenty have overcome their fears on the course. (And they can rescue you if you do get stuck).
Also, after trying out the first section, which is not too high, you can quit and get a full refund. You can't get fairer than that.
Despite my problem with heights, for the most part, I enjoyed the TreeTop Challenge.
The saying 'don't look down' doesn't work well as you must look at your feet for many obstacles. However, you are concentrating on navigating and soon get used to working at tree level.
We found that each section got progressively higher, so you can work your way up, and if it starts getting too much, you can skip the next section.
If it's busy, you may be waiting for the previous people to clear a crossing and platform, so there's plenty of time to catch your breath and get used to the height.
It's important to remember that you are always attached to steel safety lines, and if you follow the procedures correctly, you will not fall.
What to Wear for Go Ape
You need to cover your midsection so the harness doesn't rub.
Also, hoop earrings are prohibited, and long hair must be tied back so nothing gets snagged when crossing the course.
Be prepared to get mucky, especially when you land in the bark at the end of the zip wires. Bringing a change of clothes for afterwards is advised.
Slip-on/off shoes (flip flops, sandals, etc.) are not allowed, and footwear that supports your ankle is advised (I took walking boots).
Gloves are also advised. I took some padded fingerless cycling gloves, making holding ropes easier.
A full list of what to wear is provided on the Go Ape website.
What about those not doing the Go-Ape activities?
Not everyone can do the course, especially if you have to look after those too young.
However, most of the course will have a footpath so that you can follow your family in the trees and take some great photos.
Most of the Go Ape locations are in woodland visitor areas, such as those run by the Forestry Commission, and so there could be a snack bar, play area, and other activities, such as cycling.
You could quite easily turn the whole day into a great day out for all the family.
How long does the Go Ape course take?
This will depend on how long the course is and how busy.
It took us nearly 3 and a half hours. However, we spent a while in the trees waiting for a family before us to safely clear the obstacles. A less busy time, and you may be quicker, so you would probably expect 2-3 hours, including time for the safety briefing.
Make sure everyone has visited the toilet before your session starts.
Go Ape Locations
Go Ape is located in most of the country. If you're staying or camping in the area, consider trying one of their courses.
Some of these courses get very busy, so pre-booking via the Go Ape website is advised.
Go Ape is continually enhancing their courses, so please check their website for the latest before booking.
---
With thanks to Go Ape for enabling us to bring you this guide.